Hamilton Healthcare is a Multipure™ Independent Distributor (ID #142275)
You Are Paying Too Much For Bottled Water!
750 gallons of Bottled Water = $2,132.82
750 gallons of Multipure filtered water = $69.95
Since 1970, Multipure Corporation has been the market leader in high performance drinking water systems and water filters. They are the world's largest manufacturer of compressed carbon block cartridges and drinking water filter systems. Multipure Drinking Water Systems have been tested according to NSF/ANSI Standards and certified by NSF International to reduce a wide range of contaminants including Arsenic, Cysts, Lead, PCBs, MTBE, Mercury, Asbestos, Chloramine, and VOCs. Get peace of mind by controlling the quality of the water you drink.
Multipure systems address radioactivity concerns in drinking water as a result of damage to the Fukushima Dai-ichi Nuclear Power Plant in Japan.
Some preowned water filter products available.
Multipure's Aquamini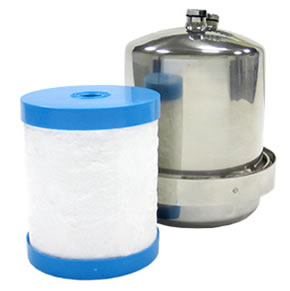 Multipure's Aquamini* provides powerful filtration in a compact size. It utilizes Multipure's industry-leading solid carbon block filter to reduce the presence of contaminants that can negatively affect the taste, odor, and healthfulness of your water, and its small countertop footprint makes it the perfect portable filtration solution for travelers, vacationers, and students. The Aquamini features a stainless steel housing and is designed for easy installation and countertop use only.
SKU: AQUAMINI1
Features of the Multipure Aquamini include:
• Designed for countertop installation
• Connects directly to faucet with a dual-hose diverter valve
• Perfect for vacations, business trips, hotel rooms, and college dorms
• Employs submicron (0.5 micron) solid carbon block technology with easily replaceable filter cartridge (model CB6MINI)
• Utilizes mechanical filtration, electrokinetic adsorption and chemical/physical adsorption processes for comprehensive contaminant reduction
• Reduces the same wide range of contaminants as the Multipure Aquaversa and Aquadome products
• Economical to own – Operating cost is 18¢ per gallon
• Long filter life – Capacity is 250 gallons, or about six months of regular use
• Comes with one filter cartridge
• Includes necessary installation hardware and faucet adapters
• Extensive owner's manual with detailed instruction for installation and troubleshooting
• 90-Day Money-Back Guarantee and Lifetime Warranty on housing
*The Aquamini has not been tested, and make no claims for the reduction of contaminants of health concern.
PRICE: $170.00 ($25.00 S/H in U.S.)
Price subject to change before ordering.

Aquamini Replacement Filter
This solid carbon block filter is used with the Aquamini system. The filter capacity is 250 gallons.
SKU: CBMINI
PRICE: $45.00
New replacement filters always shipped to your door.
View resources about radionuclides or sources of radioactivity in water and the air.
CALL (503) 618-8115 TO HAVE ALL YOUR QUESTIONS ANSWERED OR TO ORDER
A WATER FILTRATION SYSTEM OR MULTIPURE REPLACEMENT WATER FILTER.
YOU CAN ALSO USE OUR FORM.

Hamilton Healthcare is a Multipure™ Independent Distributor (ID #142275)